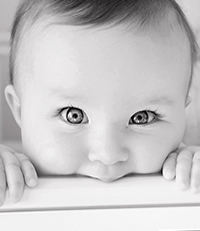 Infants
Our infant nursery creates a safe environment for your newborn to discover and grow.  Each room has a maximum ratio of 10 infants and 2 teachers.  When infants are not sleeping in their own cribs, they are getting tummy time on the carpet playing with discovery toys, or being cuddled and cared for by qualified staff.  Infants experience the outdoors in our state-of-the art playground .
Toddlers
From potty training to learning socialization skills, our toddlers love their days at school.  They explore through dramatic play, create with art, sing and play various instruments, and learn to love literature.  They are stimulated with 11 enrichment centers and learn through a day of play.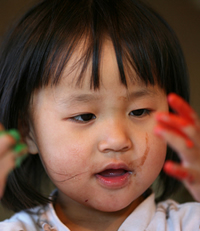 Preschool
From ages 3-5, our preschoolers are daily getting prepared for the days of primary school.  The learning environment is arranged in developmental learning centers, and the children learn through teacher directed play.  Our facility also has the More at Four Public Preschool program.  Contact the center for more information.
School-age
No more worries about where your school age child is before and after school.  Our centers can drive your child to school, and be there waiting when school is out.  After school, our group leaders help children with homework, feed them a snack, and provide crafts and activities that the children love.

Summer Camp
Each summer, your child can experience weekly field trips to museums, skating, theatres, zoo, and more.  Children spend their summer being enriched and just having fun!